Email me if interested and please share in depth about yourself in your initial email IF you expect a response. UPDATE 4/3/15 -- I currently have two GORGEOUS Cashmere babies who will be offered to those on my "priority waiting list" first. I am also expecting litters later this year that may result in more Cashmere babies - Due to the high demand of one of my Cashmere babies I am not able to accept any more priority waiting list reservations.
Be sure to check out 14KaratBengal's Cashmere Babies featured as Outstanding Kittens in the current Bengals Illustrated Publication!
---
Gorgeous Cashmere with INKY-BLACK outlined rosettes, fantastic typey body and head, wonderful face. VERY social/friendly - is constantly climbing up into my lap.
Daddy: INDIAINK Sakima of 14KaratBengal ; Mommy is the daughter of CALCATTA'S LA MAR of AMANTRA X BEAUXMONDES Feather Dance (Fantastic pedigree)
14Karat Bengal Cashmere Baby Boy "Monroe"; renamed "Talal"
Sold to Meghan :)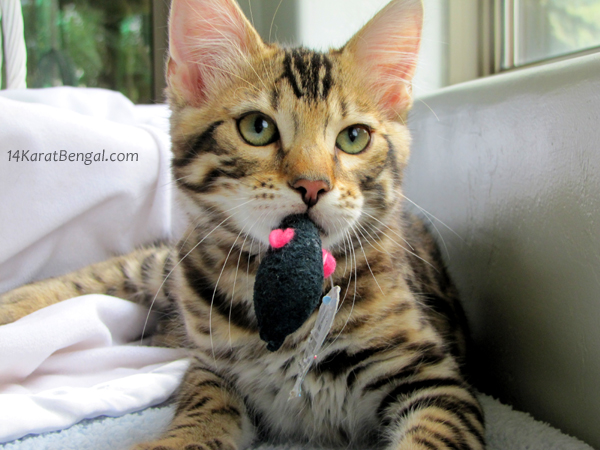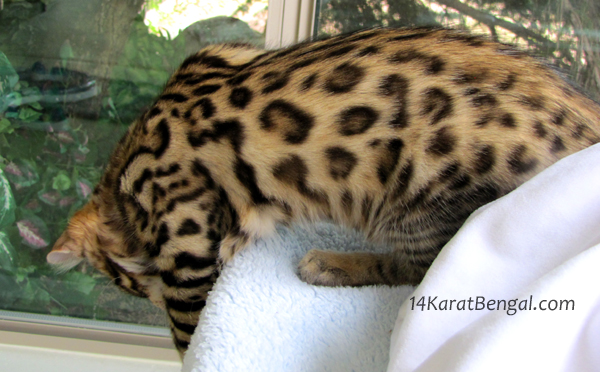 I breed for the LOW-LYING coats. When a Cashmere Bengal has a low-lying coat markings are highly visible and gorgeous.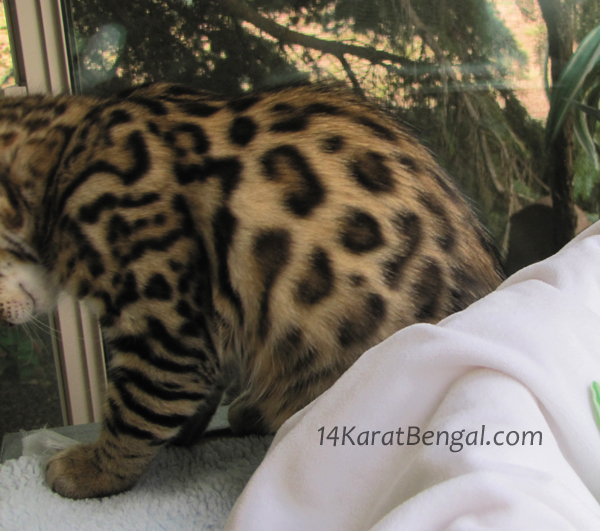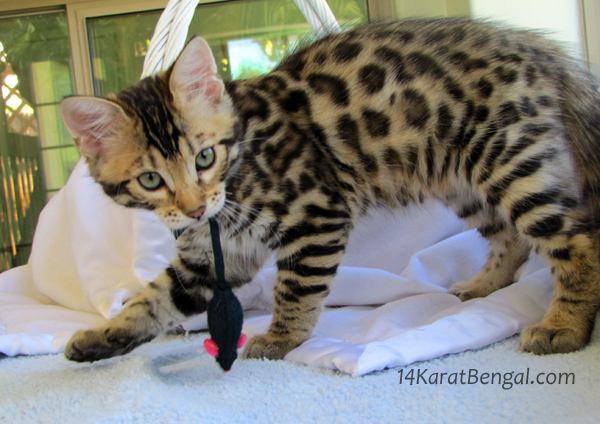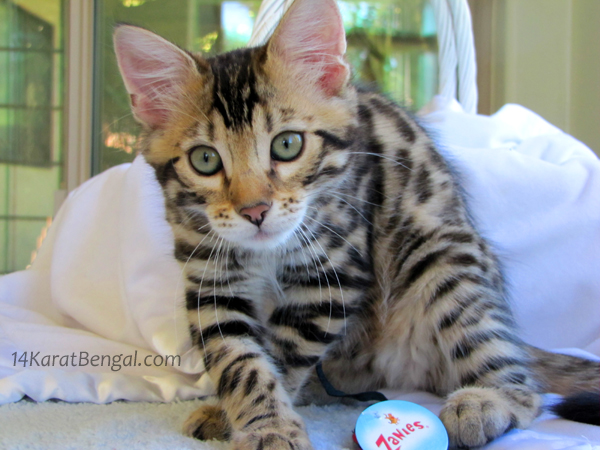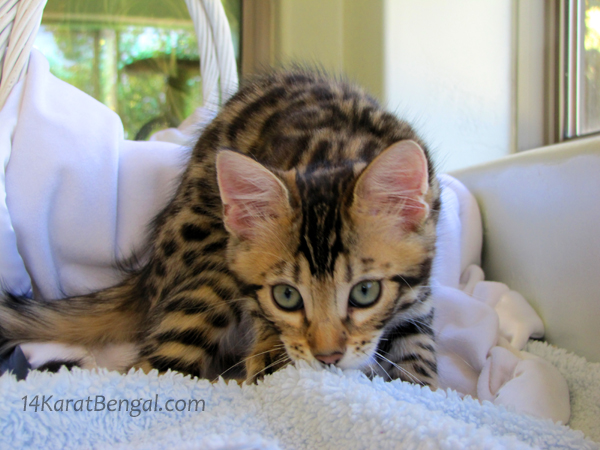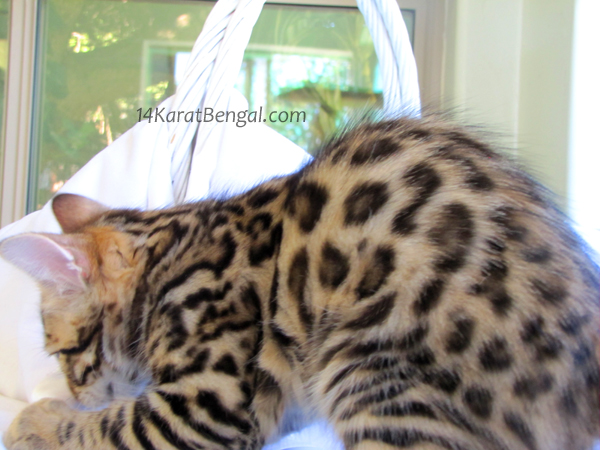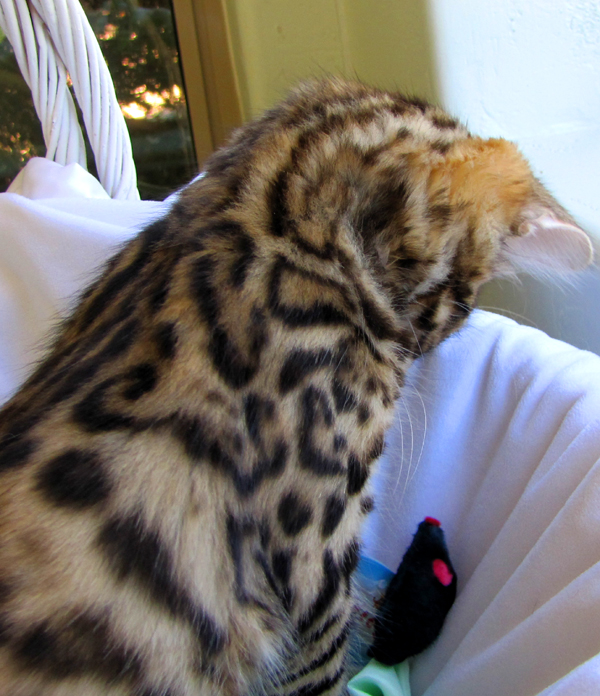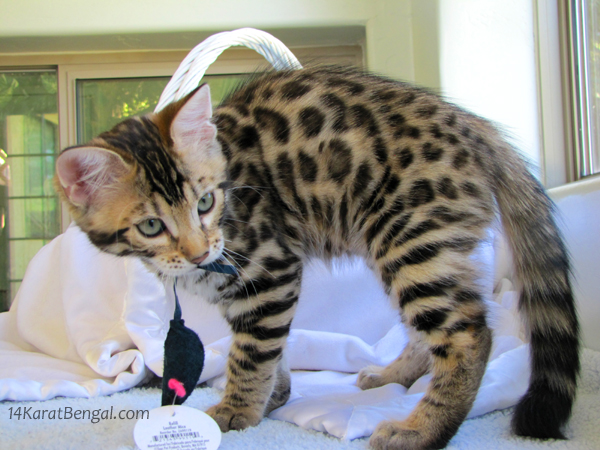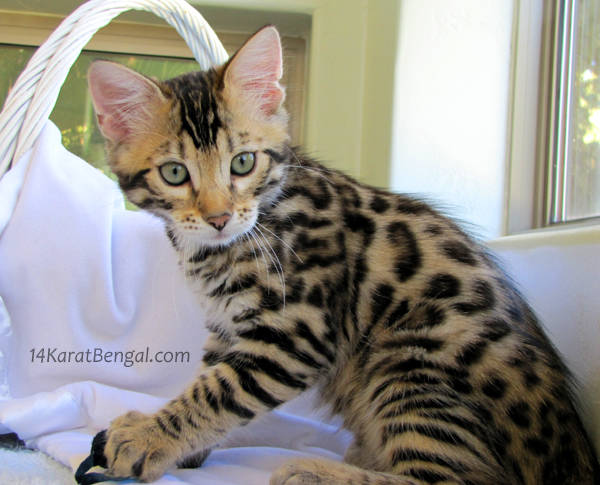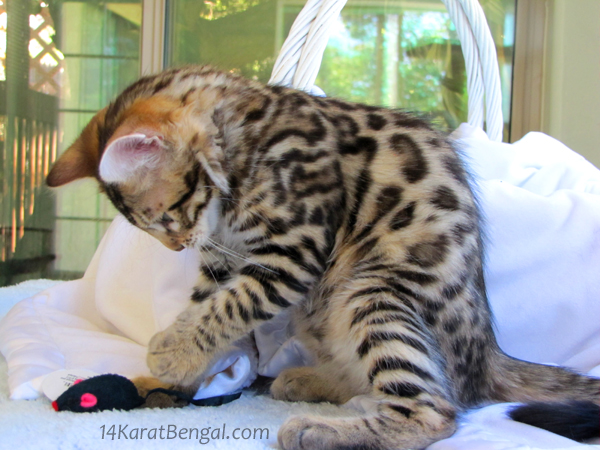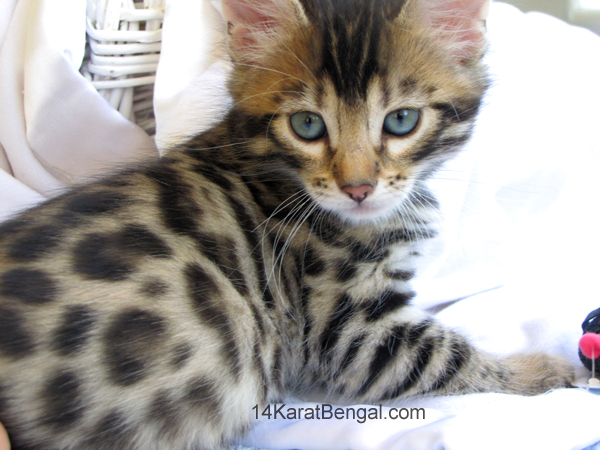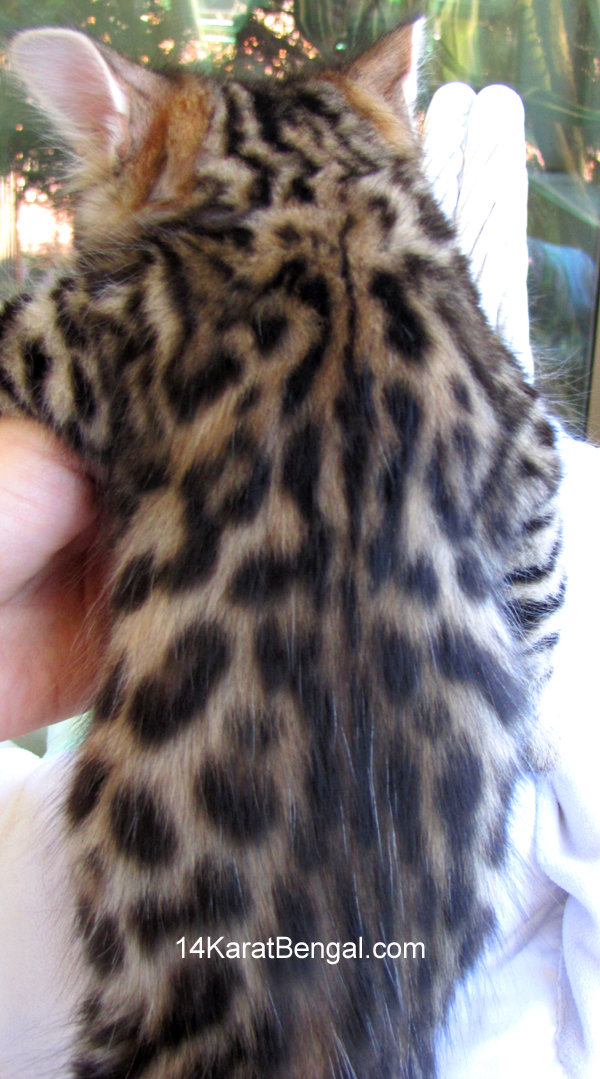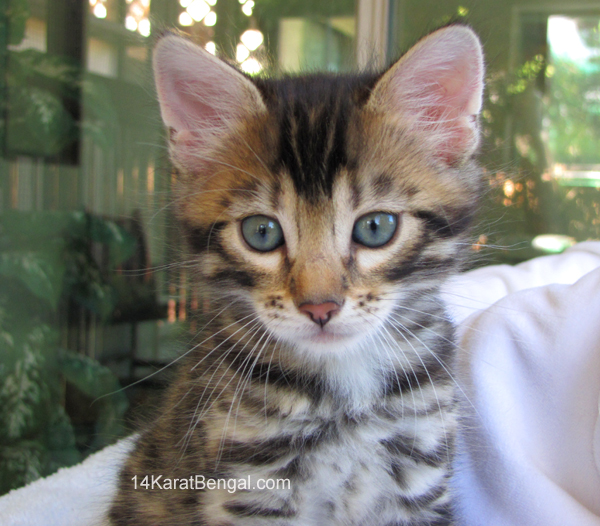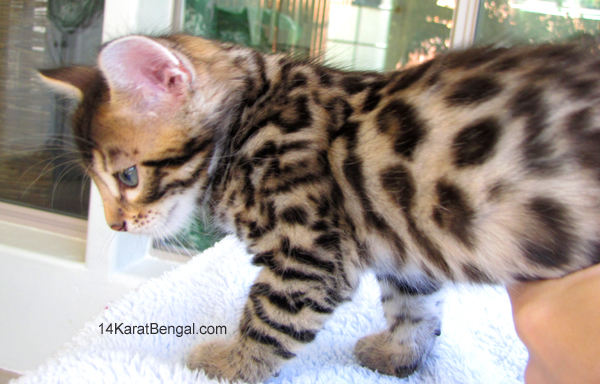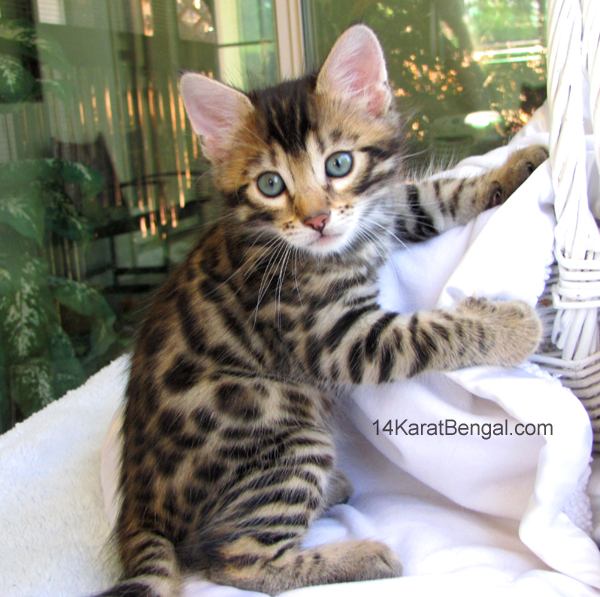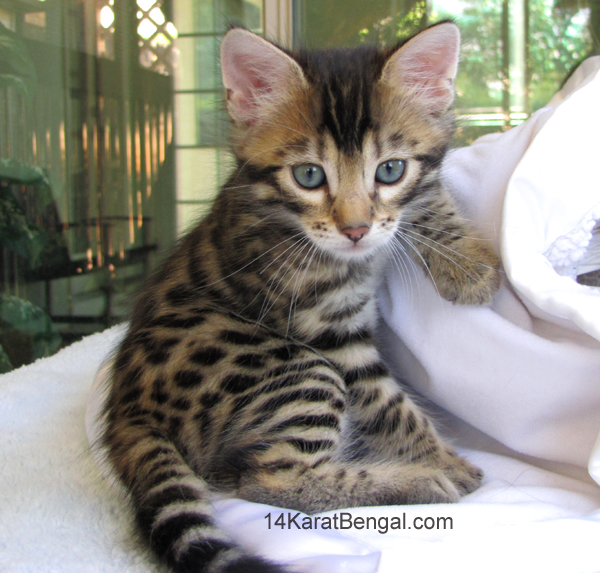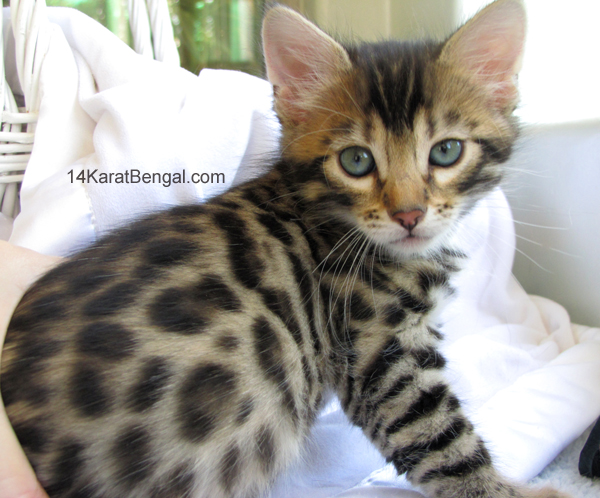 Below Photos are very washed out but they show his fabulous body well.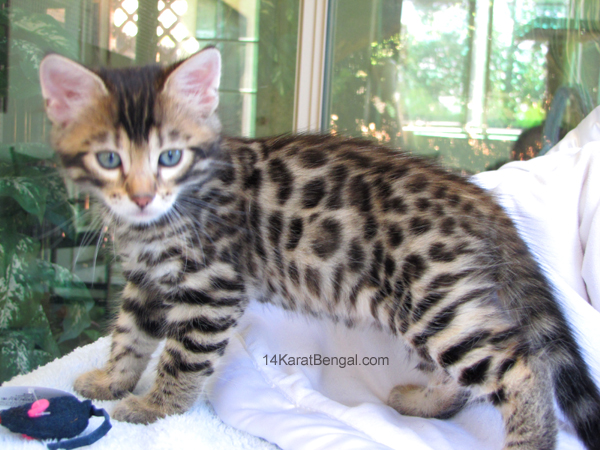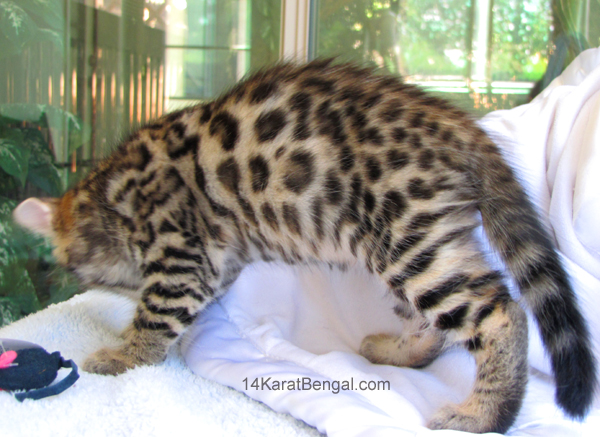 Above Photos taken on August 27,2014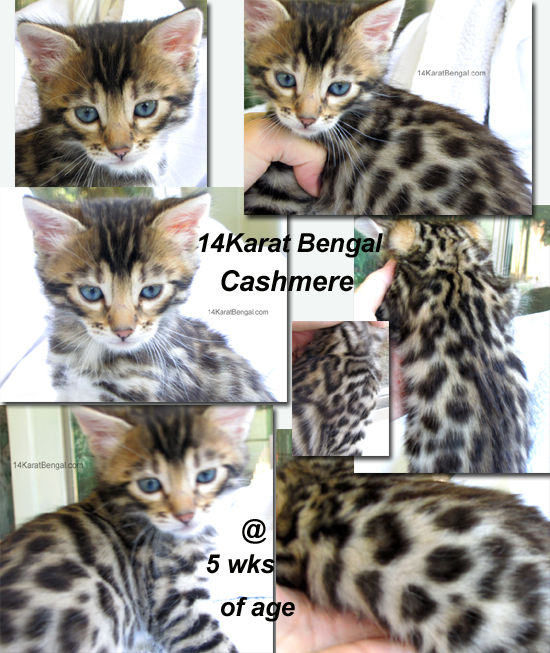 ---
---
Another EXCEPTIONAL, Very Sweet, Loving, Social Cashmere Baby Boy! I am VERY proud of this AMAZING Bengal boy! Everything about him is absolutely stunningly gorgeous! Fabulous Pedigree -
Father, 14KaratBengal Supreme Wurth, is down from the very famous WURTHY-line and mother is from some wonderful JUNGLEBOOK lines.
14Karat Bengal Cashmere Baby Boy "Dallinger"
Dallinger has developed Gorgeous Rich Red Coloration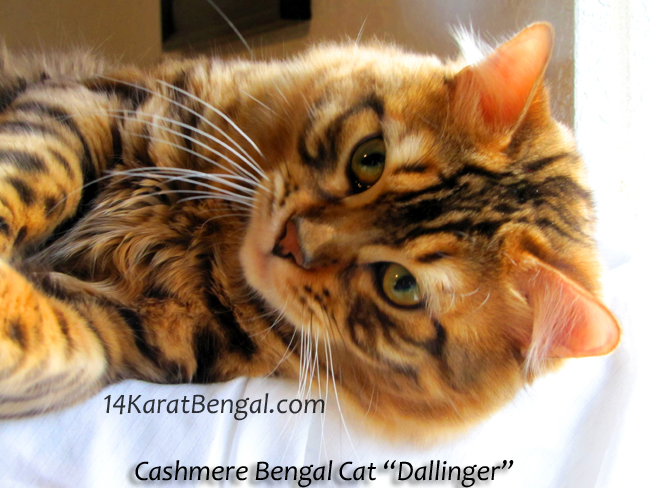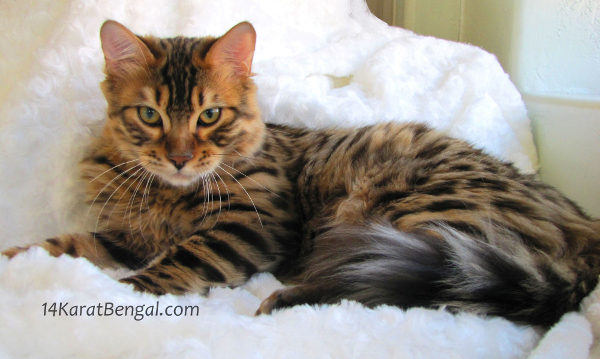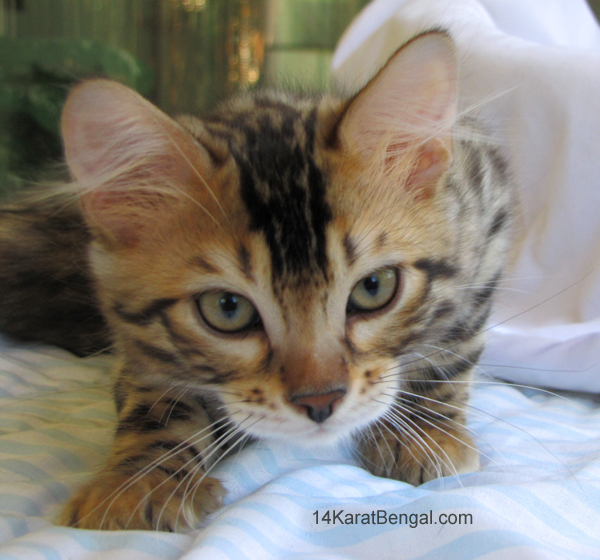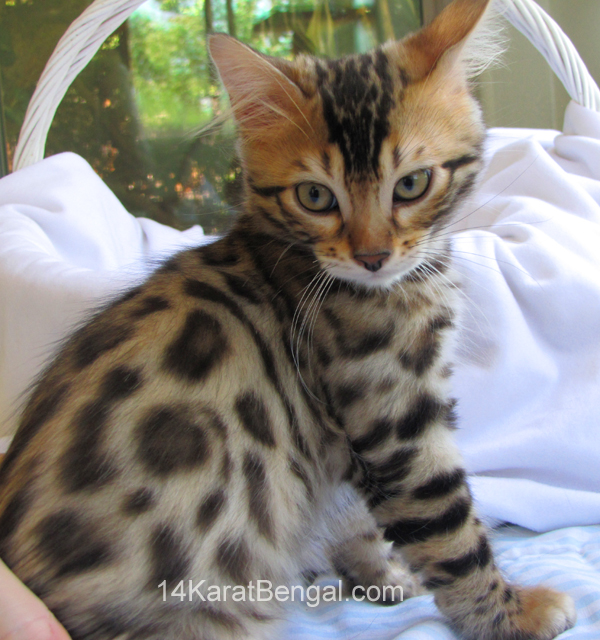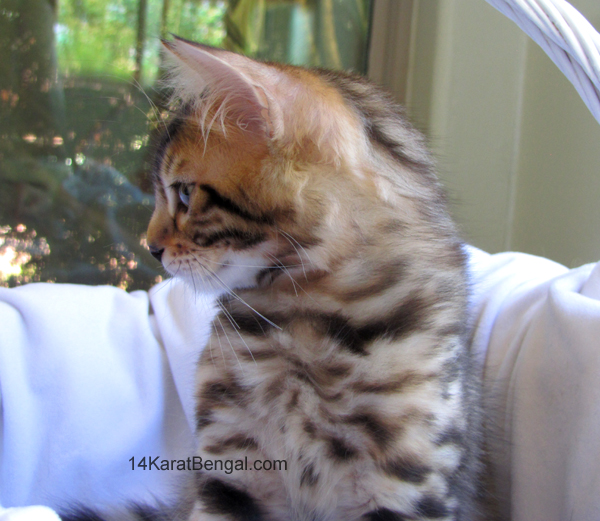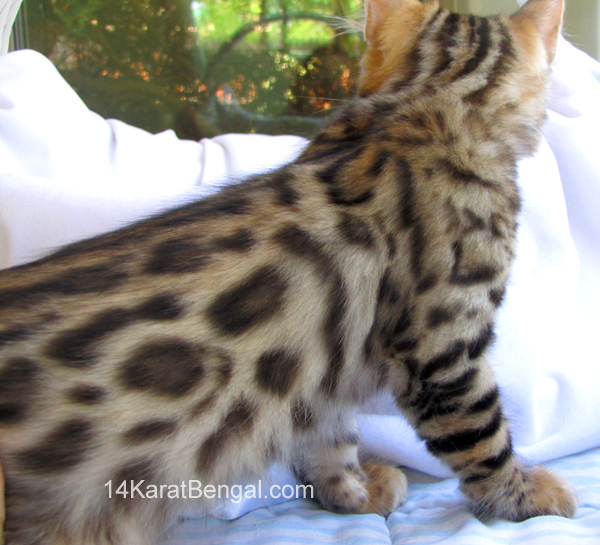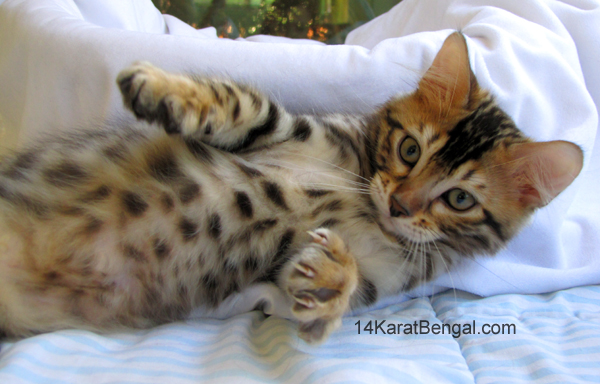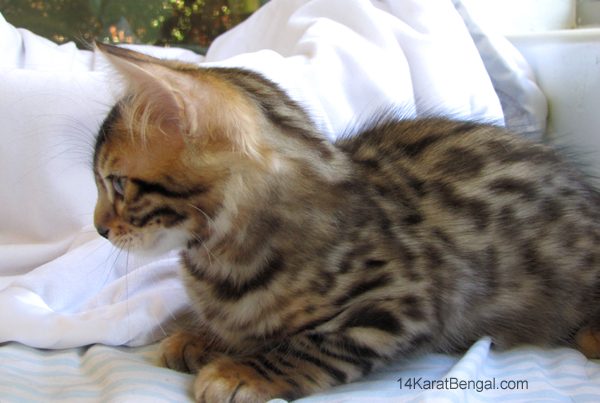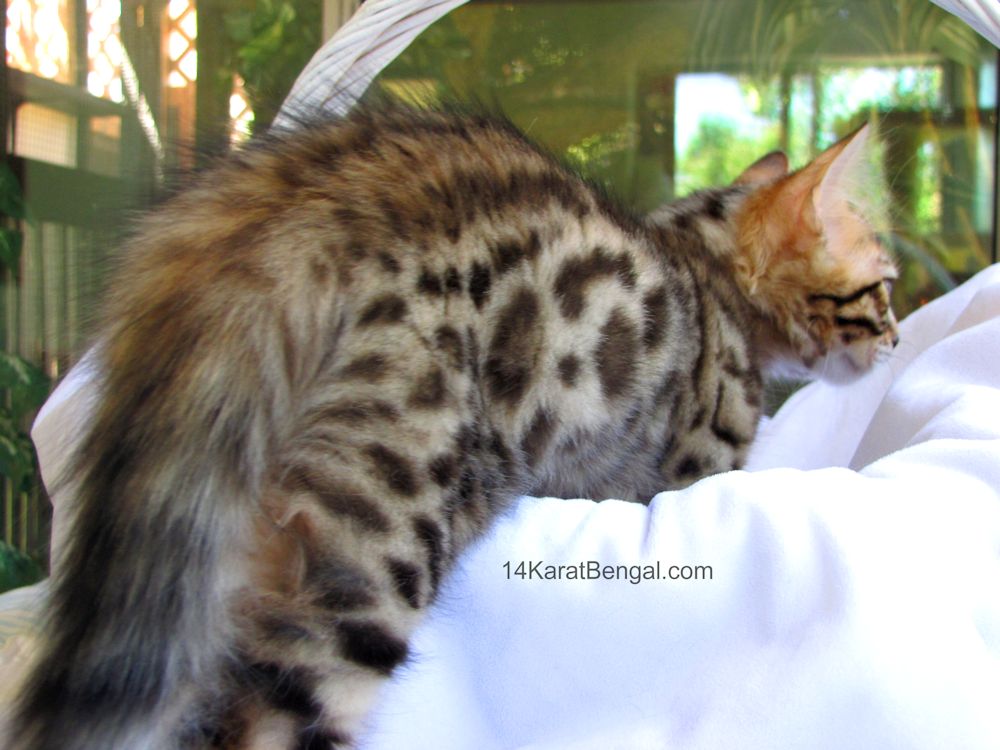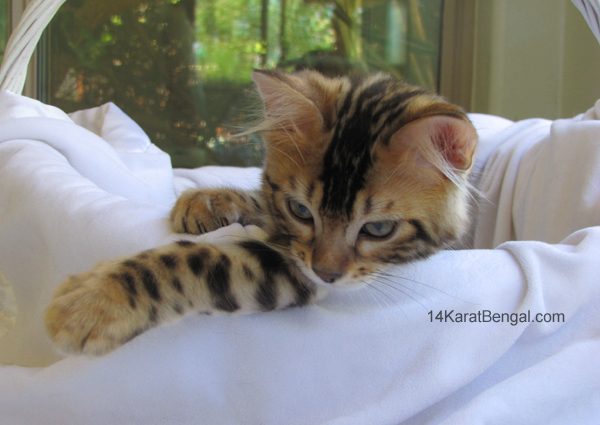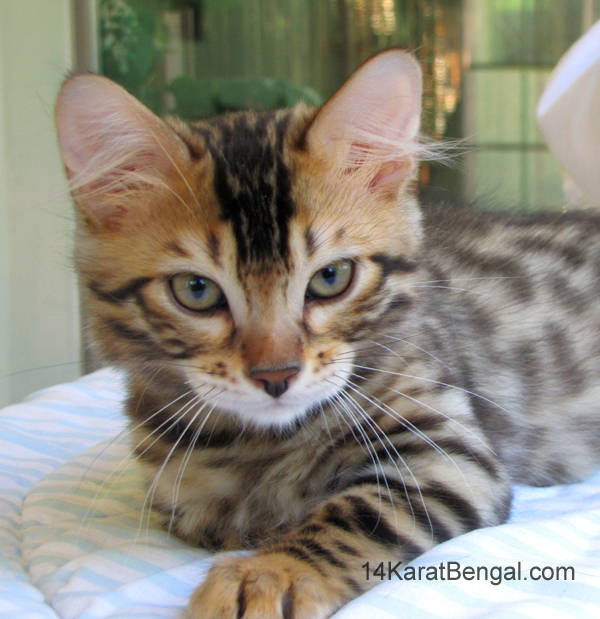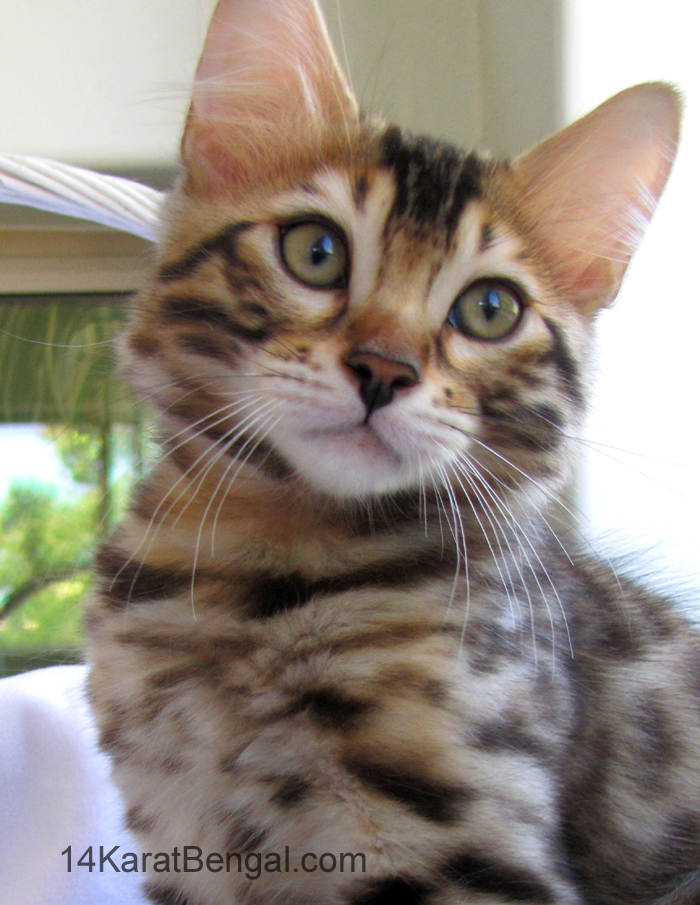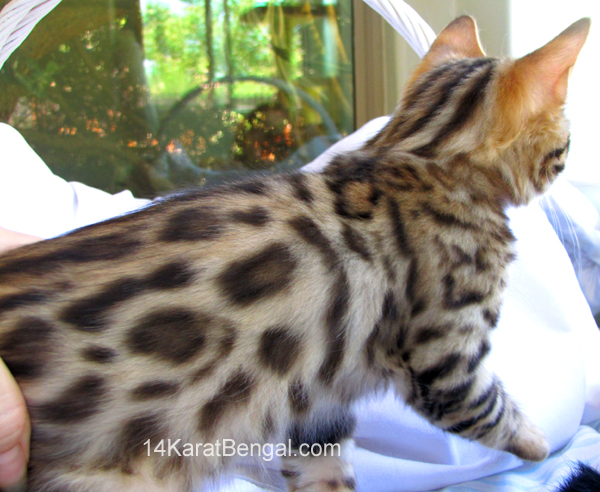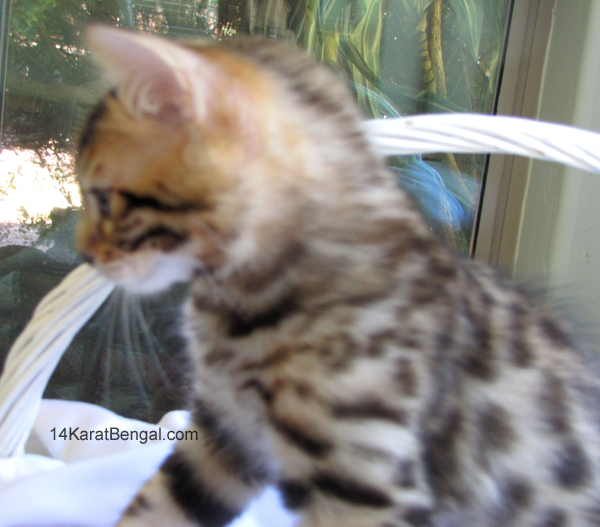 All Photos Above Taken on August 28, 2014.
All Photos Below Taken at 7 Weeks of Age.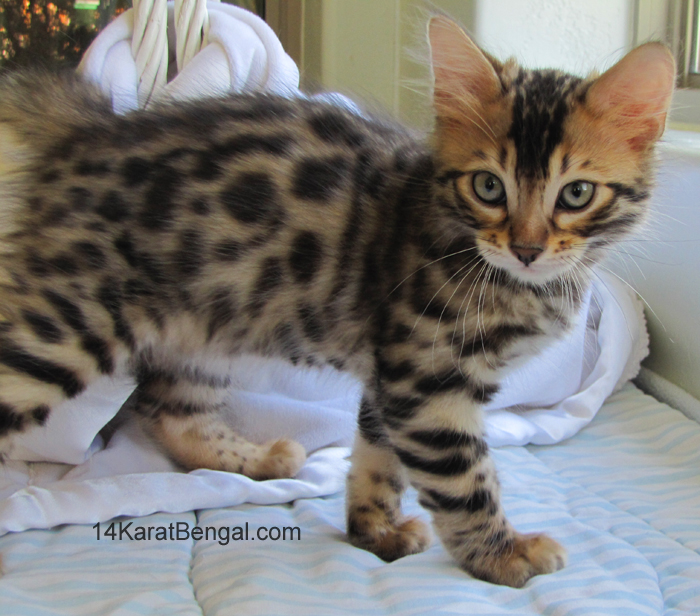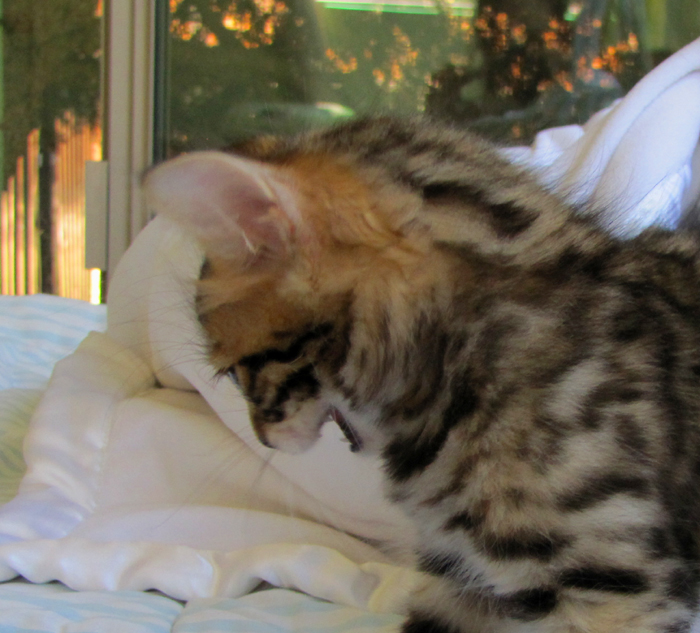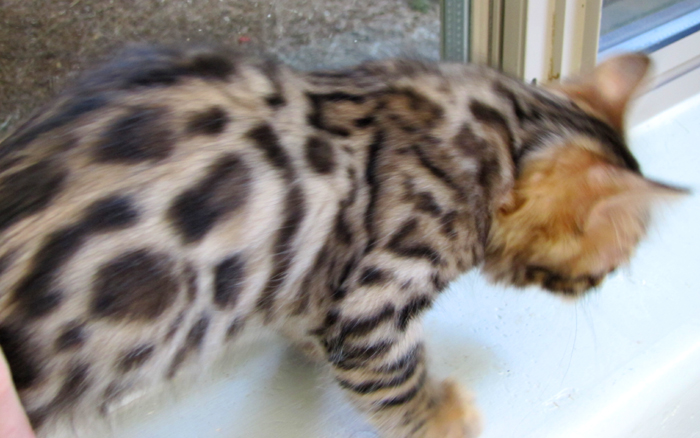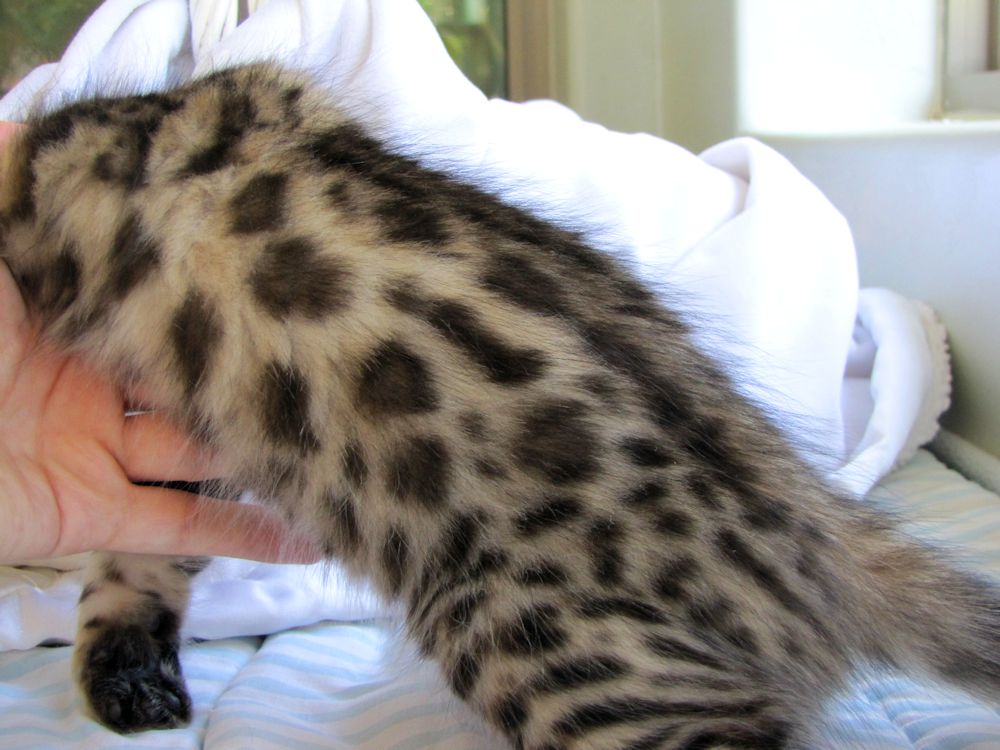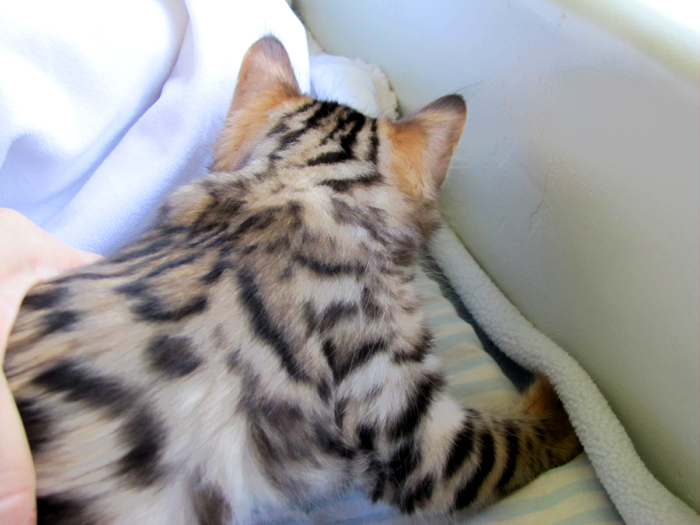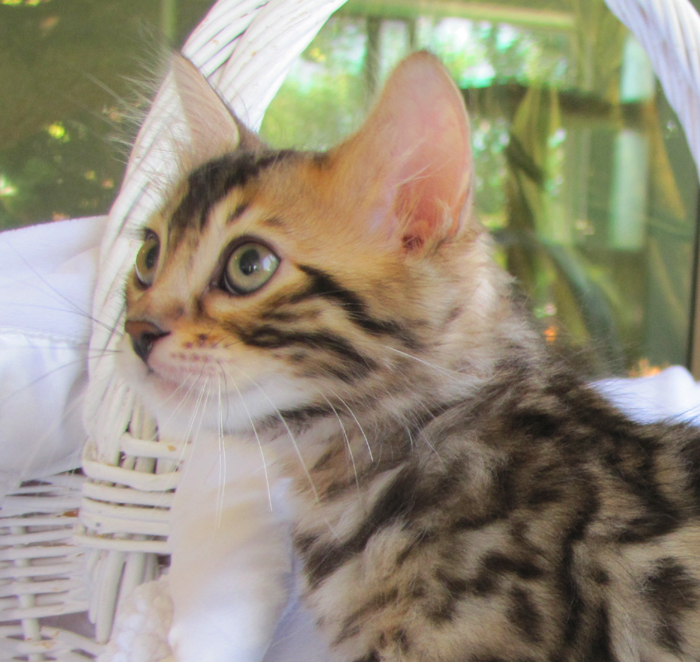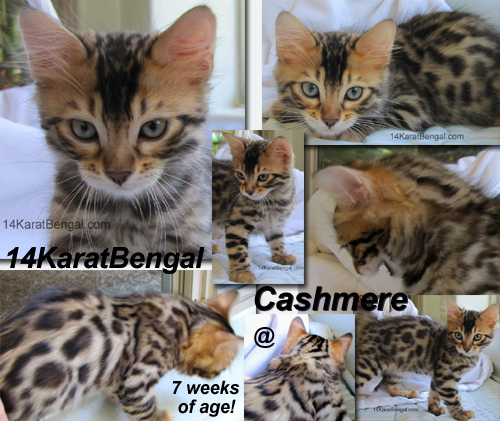 ---
Gorgeous, Exuberantly Loving Cashmere Bengal Baby Boy - not currently available
Same Fabulous Pedigree as Baby Boy Above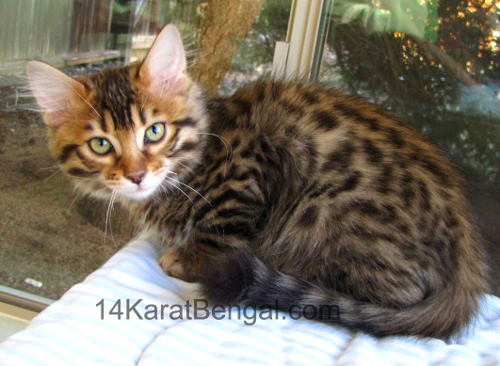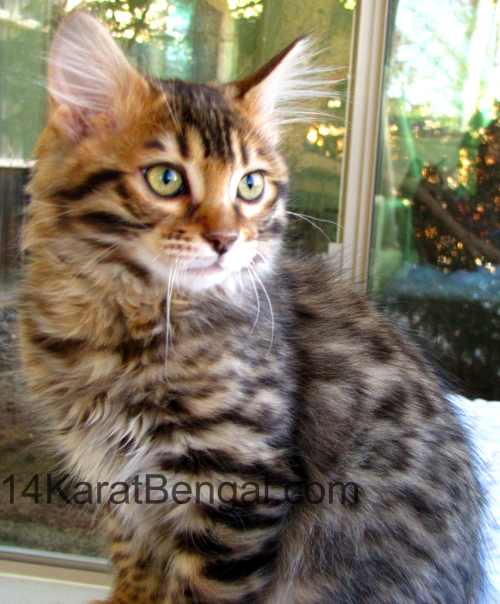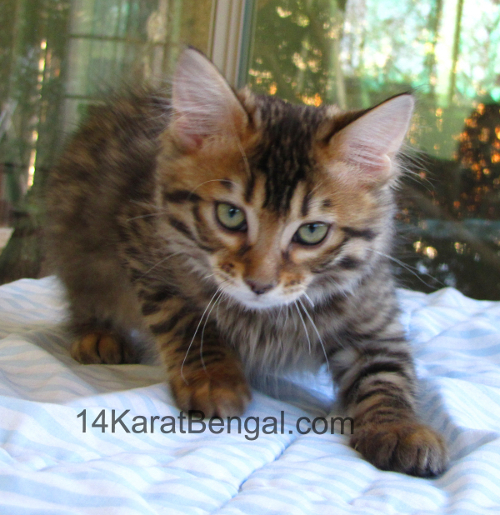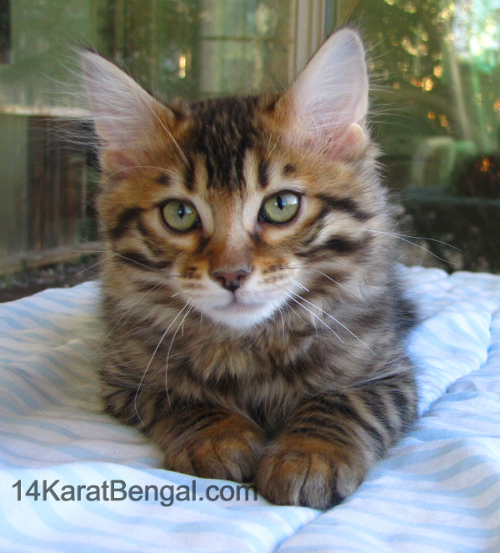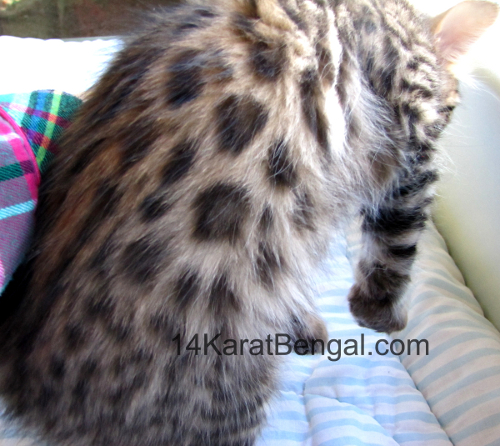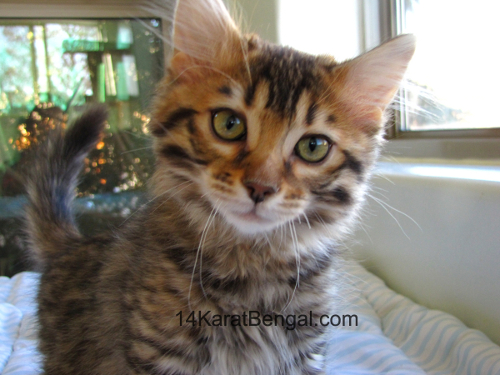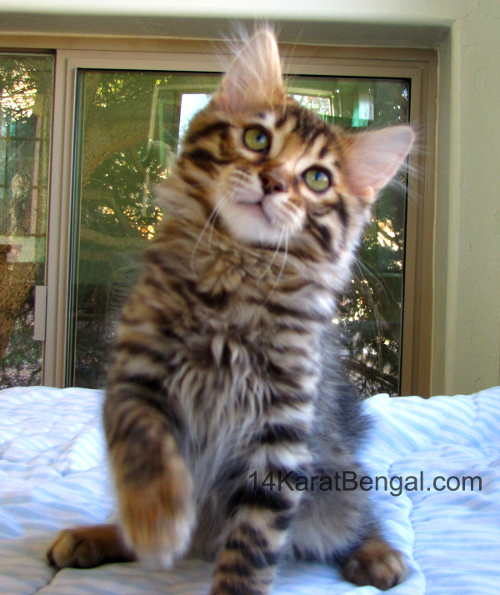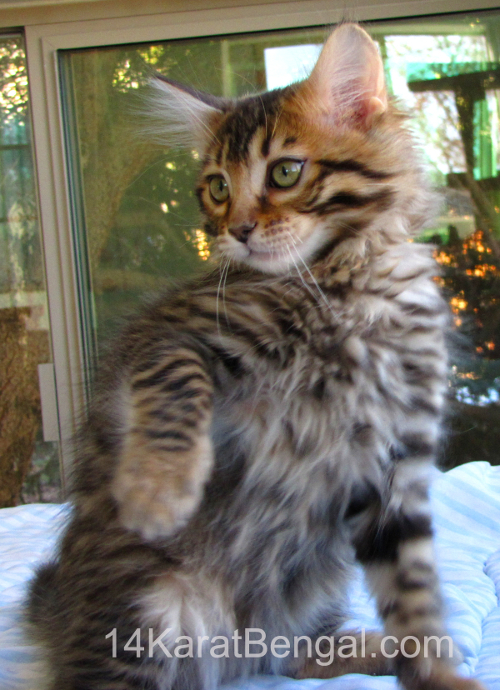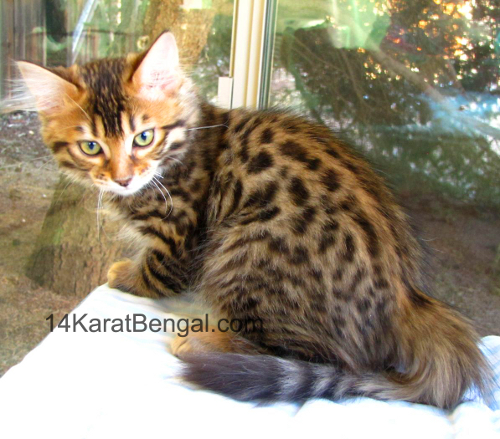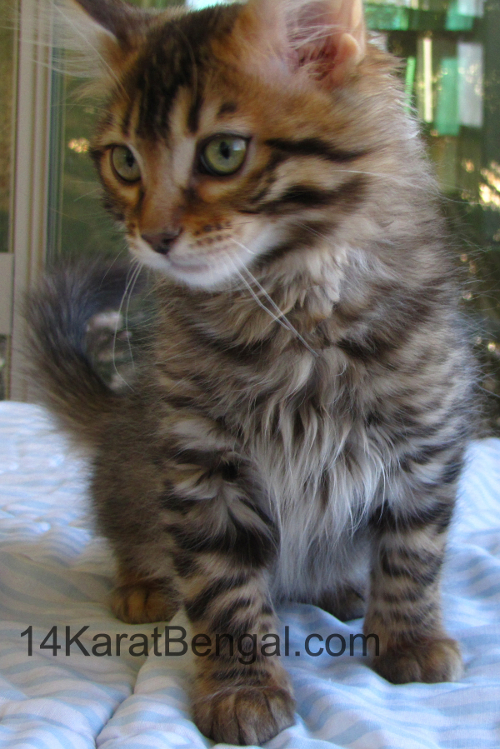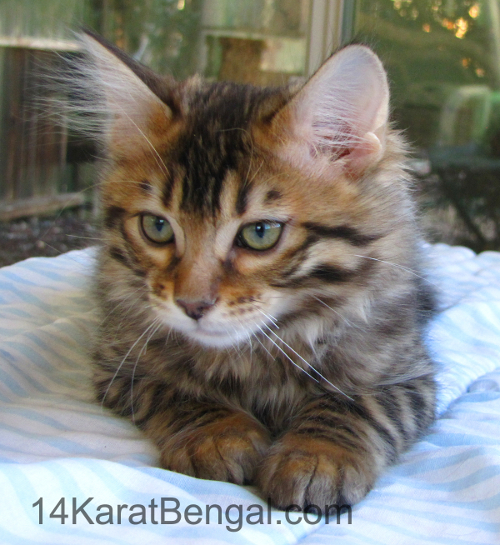 I am very tempted to keep this gorgeous lover-boy for myself. He is so exuberantly loving and affectionate and he has the rich red-hot coloring I love. He is covered in sparkly glitter, is super, silky soft, has beautiful type and the sweetest, prettiest face with beautiful face paintings.
***Please be sure to share about yourself in your initial Email -- Emails received that do not include any information about oneself will not be answered. I am extremely particular about the homes I choose for my kittens and cats. My life is totally devoted to my cats and I invest a piece of my heart and soul into each one. Please take the time to share about yourself when contacting me.** I am receiving A LOT of emails that do not include any information about oneself and those are being deleted. I am not trying to 'just make a sale' and my cats are not 'just things/inventory" but precious living creatures.
Please email me for the initial contact. Also, please share about yourself in your initial email. Emails asking only if I have a waiting list or what my prices are for Cashmere kittens without also sharing something about yourself will not be answered. Great care and concern goes into choosing the absolute best homes for my cats and kittens. These are not "things" but precious living beings. Living Beings that I have dedicated and devoted my life towards.
---
---
All the available Cashmere kittens will be offered to those on my priority waiting list first. Buyers on my priority waiting list have priority in selecting from available Cashmere kittens. A non-refundable $100 is required to be on this list and holds your place on the list. There is a very high demand for all of my kittens. A lot of my kittens are sold before they are born.
I also have a "regular waiting list" and there is no fee to be on this list.
Please Email me at 14karatbengal@q.com for more information!

I "typically" respond to email messages within a few minutes. If you do not receive a response from me within 6 hours, please email me directly through your email. My email address is 14karatbengal@q.com - I am dealing with some serious family issues and I thank you for your understanding if there is a delay in receiving a response. If that happens, please send another email. My adoptive families realize all the issues my mother has been experiencing. I sincerely appreciate your understanding, true compassion and patience.